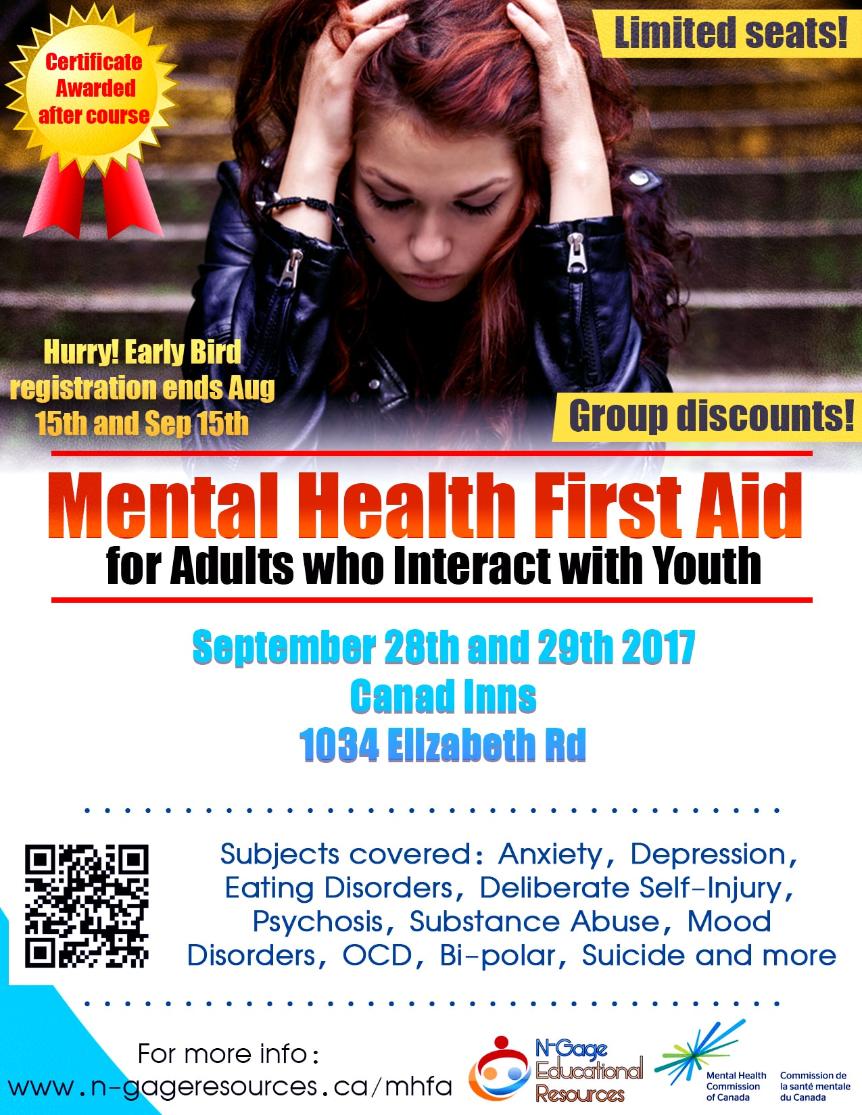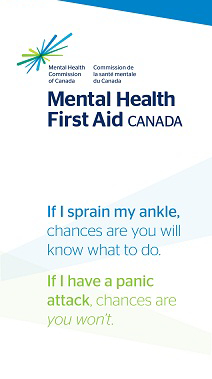 ** Limited Space. Only 25 participants **
Bring a friend and receive $25 off your registration!
All participants receive a free e-book of therapeutic plays!
$249.99 Early Bird (until Sep 15th)
$249.99 Discounted rate (students, groups)
$349.99 Recommended rate
Registration 8:30 - Course starts at 9:00
Canad Inns - Windsor Park
1034 Elizabeth Rd
Ambassador Room C
Subjects that will be covered:
Suicide Prevention

Deliberate Self-Injury

Psychosis

Addictions and Substance abuse

Eating disorders

Mood disorders (Bi-polar, OCD)
What people are saying:

This was by far the best PD (Professional Development) I have ever done! Everyone should take this course! - Linda (Teacher)

Wow! This course is a 10/10! I recommend it to anyone who wants to learn about mental health and how to help! - Bobby (Youth Worker)

The facilitator was captivating, funny, experienced and had great stories and examples to better illustrate how to use Mental Health First Aid! - Ken (Nurse)

The instructor made me feel comfortable with the course content and his approach to teaching is amazing. - Leslie (University Student in Psychology)

I will definitely recommend this training to everyone! Family, friends, co-workers! - Abby (Social Worker)
Cancelation policy
$50 administration fee when cancelled 1 month prior or more. 50% of tuition free returned when cancelled 2 weeks prior or more. No refunds or returns will be issued when cancelled less than 2 weeks prior to training. An additional credit card administration fee will also be applied to any and all cancelations made with a credit card. Please allow up to 30 days for refunds. If unexpected circumstances present themselves, it may possible to transfer registration to alternative dates. It is also possible to send a replacement if prior written notice is given. Please note: Training is subject to a minimal registration. In the event of registration not being sufficient, MHFA Canada requires training to be rescheduled - should this occur, all participants will automatically be rescheduled and notified of new training dates.